The local dance studio in Winlock invited students from Winlock to write an essay in appreciation of moms for Mother's Day. The winning essay was given a gift basket valued at $100.00.
Essay question: During these difficult and unusual times of the stay at home order, how has your appreciation grown for your mother? Please consider the various hats she wears and things she does for you and the entire family? The hats she may wear are: wife, teacher, cook, taxi driver to kids, housekeeper, health provider etc...
How has your perspective changed about core values and what is generally important In your life? Here are a few CORE values: (There are many CORE values)
Kindness.

Knowledge.

Leadership.

Learning.

Love.

Loyalty
THE WINNING ESSAY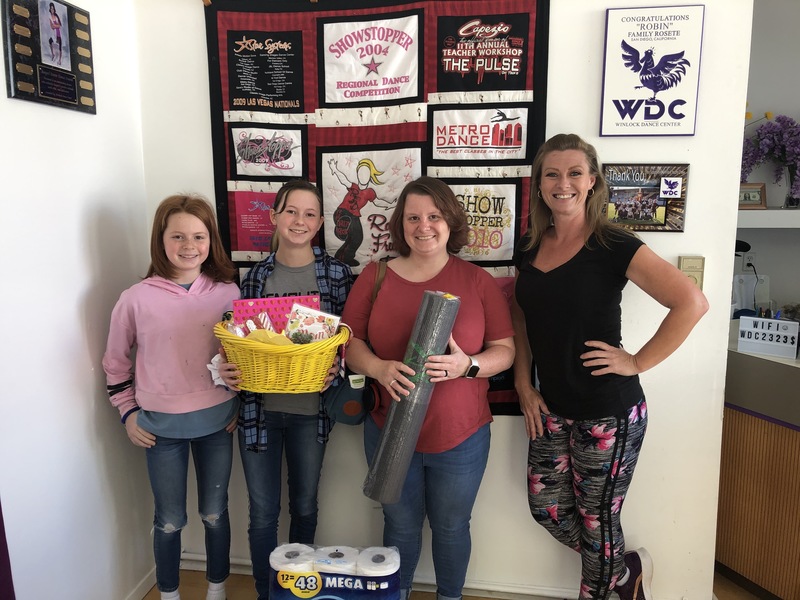 My very special mom
Emily Austin
05/01/2020
Grade 7
I appreciate my mother very much. She cares for others and herself, loves people for who they are and gives people more than one chance to make things right. She loves our family and tries to help the world as best as she can, even if that's just showing a little bit of kindness. Ever since everything going around my appreciation for my mom has grown by her making sure that we wear masks out in public, so we don't get sick and she has been reminding us about the many dangers and to stay safe.
My mom wears many hats, which are cooking because she wants to make sure we get fed and get enough energy to keep our strength up. Another hat my mom wears is being a teacher through these hard times to check that we get our assignments done and we learn. In addition, she wears the housekeeper hat because she keeps our house non-cluttered and tidy, so we can live in cleanliness. Not only the housekeeper hat, but also a great health provider because if we're sick, she takes care of us and nurtures us. The things she does for me and the family include loving and caring for us. She buys new clothes for us to dress for the weather and to be not too cold or too hot. My mom teaches us to be respectful and to use manners, even when not needed. And she hangs out with us and has fun with us. She makes my family and I happy.
Through this hard time, my mom has been doing her best to stay positive and adventurous. She has never given up. Generally, she is full of love, and since we have been getting more time together, she shows more love and integrity. At any given moment of my life, I have a set of values that guide my actions at an abstract level. Core values allow us all to live our dream and to strive to make that dream come true. My mom has a lot of core values such as honesty, friendship, loyalty, leadership and most importantly, love. These core values she has shape every single decision she makes. She constantly moves forward with having these core values. Core values are the strongest, most lasting form of motivation. And my mom never gives up, no matter how big or how small the task is. She finds a way to show a little bit of kindness each day. Because of this, she makes a great mom.
Many things my mom does takes work, but all the time it takes love. Everything she does or says comes with a little bit of love in every task or word. Without love, it would be different. My mom loves every single person in this family, but like she always says, " Love has to be acted upon, not just said." She says this because if you truly love someone, you wouldn't just say you love them, but you would show that you love them. My mom shows that she loves us by taking care of us, giving us hugs when we feel down and she wants to be a part of the fun the family has. She always wants to share many memories with us, not because she feels like she has to, but because she wants to.
A lot of things my mom does for me is important to my life. Sometimes the simplest things in life are the biggest influence. Like how my mom cooks, she loves to feed us, but doesn't stuff us to the point that we might explode. She cooks enough food for our stomachs to be happy and full. She never wants us to go to bed with an empty stomach. My mom drives us places, even though times are tough right now, she always has our back and doesn't want us to stay at home all the time. She takes the family on drives and we go on walks. She makes sure we still have fun, but also to be safe.Every time we need to go to the store, she has us put on masks to not get sick.
In conclusion, my mom means a lot to me and she isn't just my mom. She is my best friend, my role model, my chef and my life. Without my mom I would be lost. She deserves everything she puts her heart to. She influenced my life to where I can be whoever I want to be. She teaches and leads everyone she knows and if someone is sad, she comforts them. I love my mom and I want to be just like her when I get older.