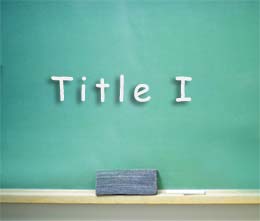 IT ALL STARTED WHEN...
The History of Educational Comparability in Title I of the Elementary and Secondary Education Act of 1965
By Phyllis McClure | Tuesday, June 10, 2008
Title I of the Elementary and Secondary Education Act of 1965 requires that schools receiving funds under Title I be comparable in services to schools that do not receive Title I funds. The public policy purpose: To ensure federal financial aid is spent on top of state and local funds to which all public school children are entitled. Title I was one of five titles in the legislation, which was introduced in Congress on January 12, 1965, and was passed by Congress on April 9, 1965.
WINLOCK GENERAL INFORMATION:
Winlock School District's Report Card from the Washington Office of Superintendent of Public Instruction. At this site you will find demographic data, assessment data, required elements (reading, mathematics, and science), financial data, accountability data for AYP, NAEP results, if applicable, and teacher information for each school in the District and for the District as a whole. You may also find the State of Washington's report card as a basis of comparison. On the Winlock School District Website, there is also a link to the District report card and to the schools' report cards. Winlock School District qualifies for Title I and Title IV Funding.
All schools receiving funding from Title I must notify parents that they may request information regarding the professional qualifications of their child's classroom teachers. This information is readily available and may be requested in writing at each respective school.